Plein Air At Lippincott Manor
Bright sun, blue skies and calm breezes greeted the artists at Saturday's Plein Air event at Lippincott Manor. Vision of Wallkill, along with the owners of Lippincott Manor welcomed enthusiastic artists to the verdant iconic locale. The Manor provides the perfect backdrop for a premier wedding venue as it is nestled between the Shawangunk Mountains and the Wallkill River and a variety of views for each artist to set their canvas with various media on hand and capture nature's beauty.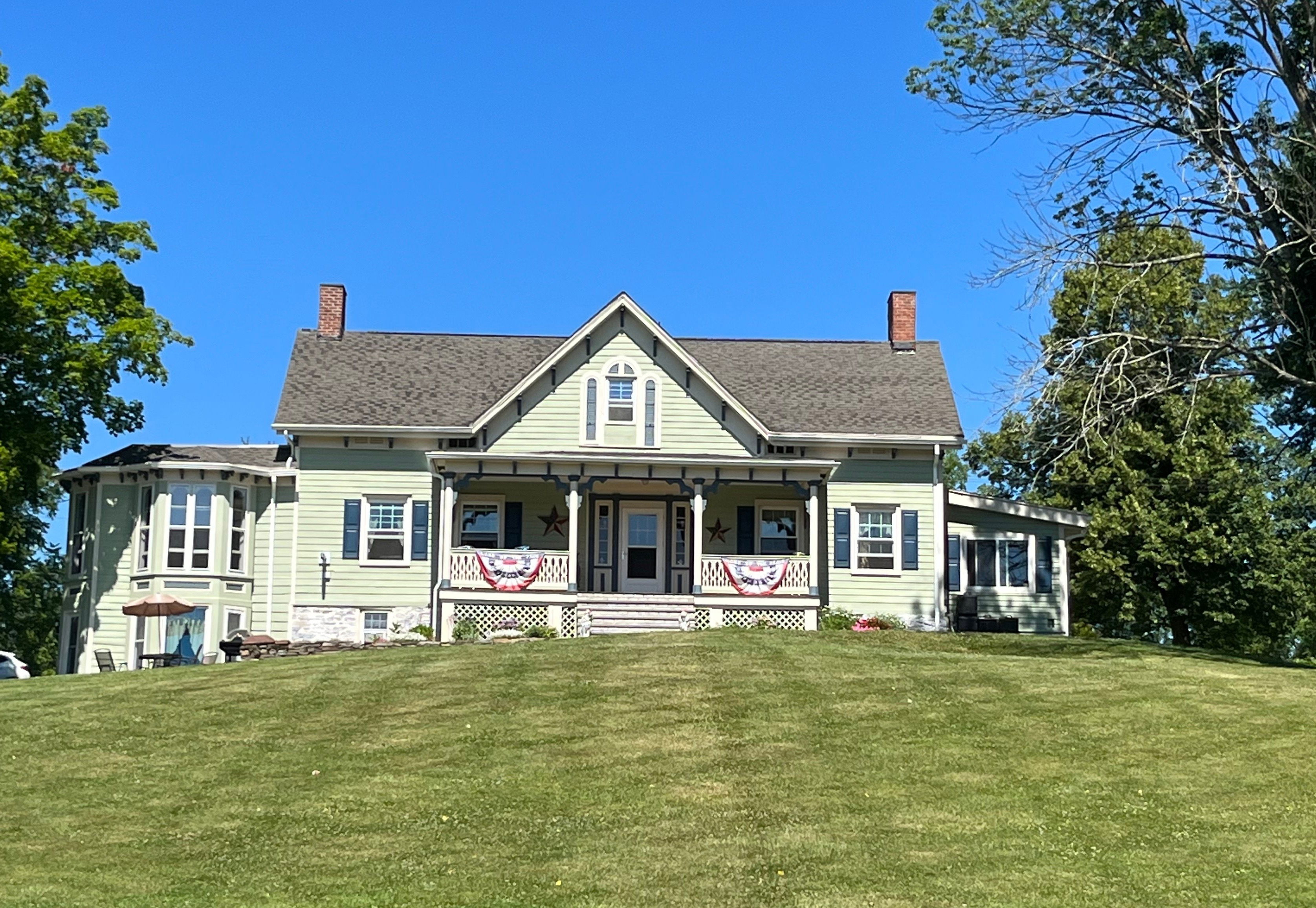 Their delightful artwork will be available for bidding at a Plein Air Silent Auction during the Weekend of Wallkill scheduled for September 23- 24. Here is a preview of the artwork for the Silent Auction. Read more about these talented artists:
Monica Cohen - Monica Cohen was born in Coquimbo, Chile. She began studying design in her late teenage years and later studied art at the University of Chile. She continued her education in the United States studying computer graphic design and traditional oil painting. Her pen and ink drawing of the first post office in Ellenville, NY triggered her interest in the history of the town. The drawings, based on old postcards and photographs, revealed a new facet of Monica's creativity. She continued this trend with other places in Hudson Valley. Monica's other work serves as a time capsule, revisiting her childhood, motherhood, and other memorable moments in her life. She continues to express herself by drawing, painting and transferring her feelings to canvas, paper, and other mediums. She can be found on Instagram @MonicaCohenFineart.
Lippincott Barn- Oil Mixable by Monical Cohen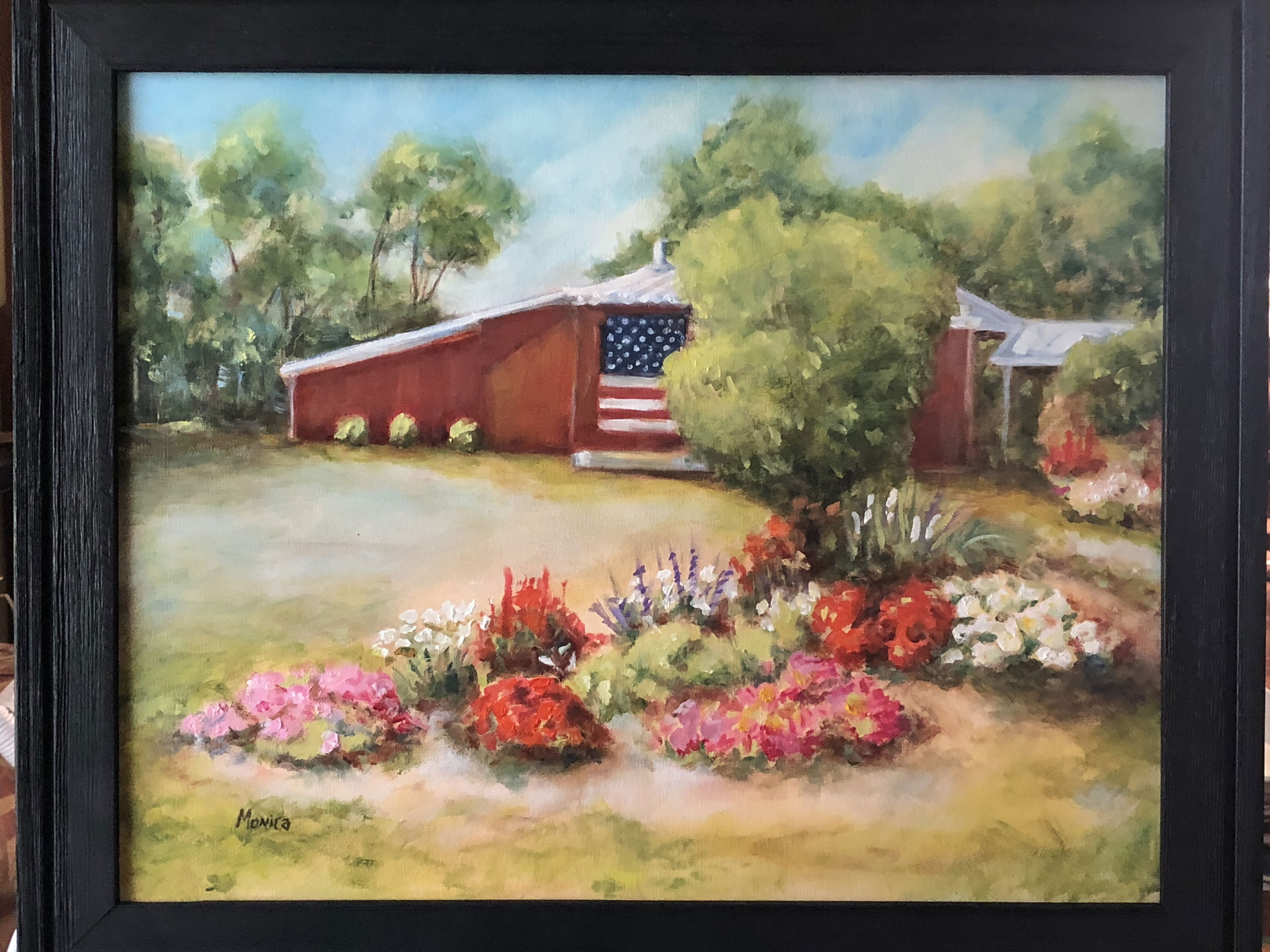 Glynis Craner - Glynis is a current college student and has a very novice. She found this Plein Aire painting experience very relaxing and enjoyable. She liked the view of the trees with the river in the background. She hopes you also enjoy her perspective.
Experimental Landscape - Acrylic by Glynis Craner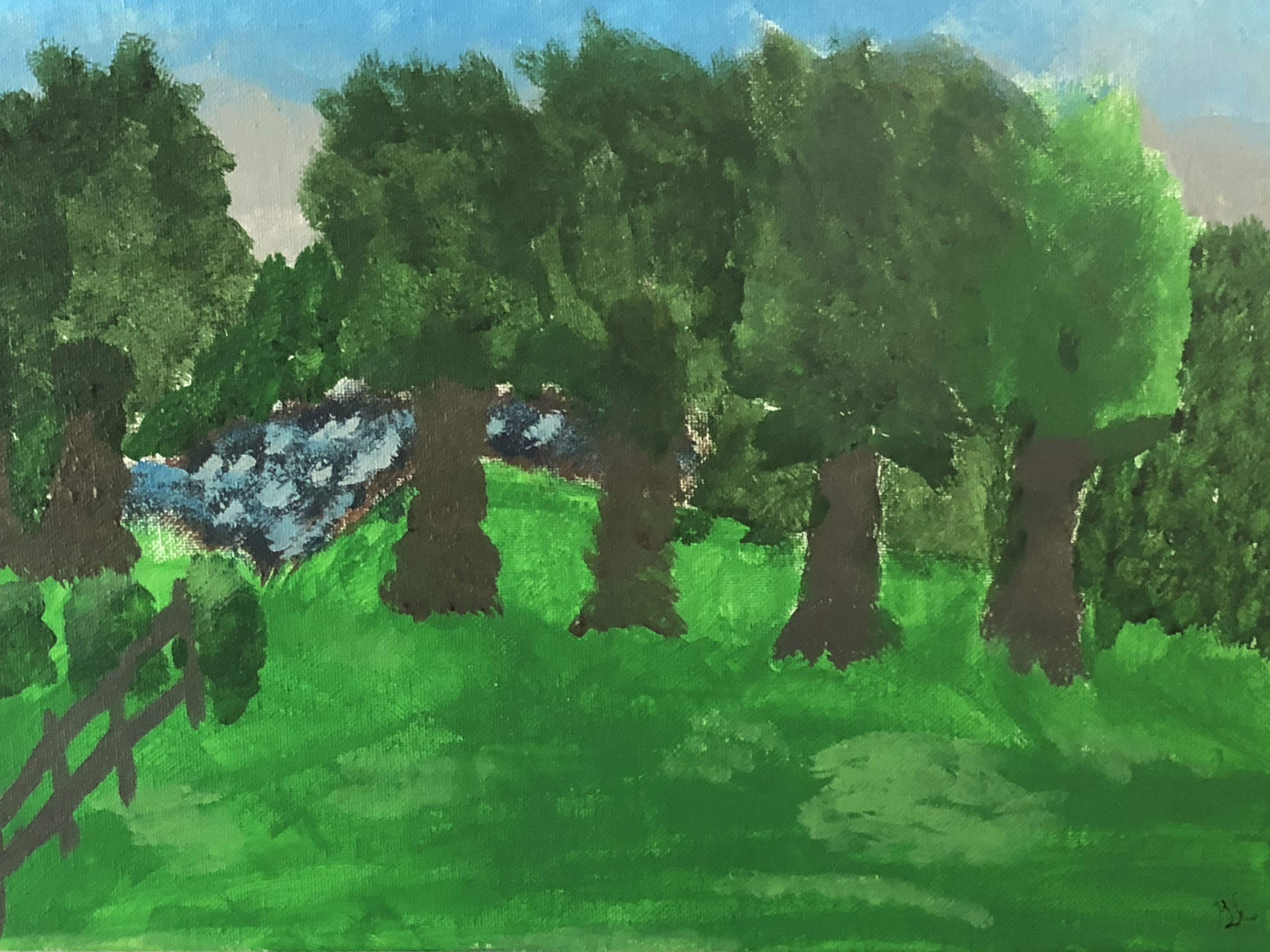 Julia Craner – Julia is an amateur photographer and a novice painter. She has always liked to take photographs and enjoys photographing unusual perspectives. She has begun dabbling in painting over the last few years. She is a scientist by training and approaches her painting kind of analytically in terms of shading and coloration to get more depth in her pieces. Julia hopes you enjoy her artwork.
Still Life- Wallkill River through Trees- Photo by Julia Craner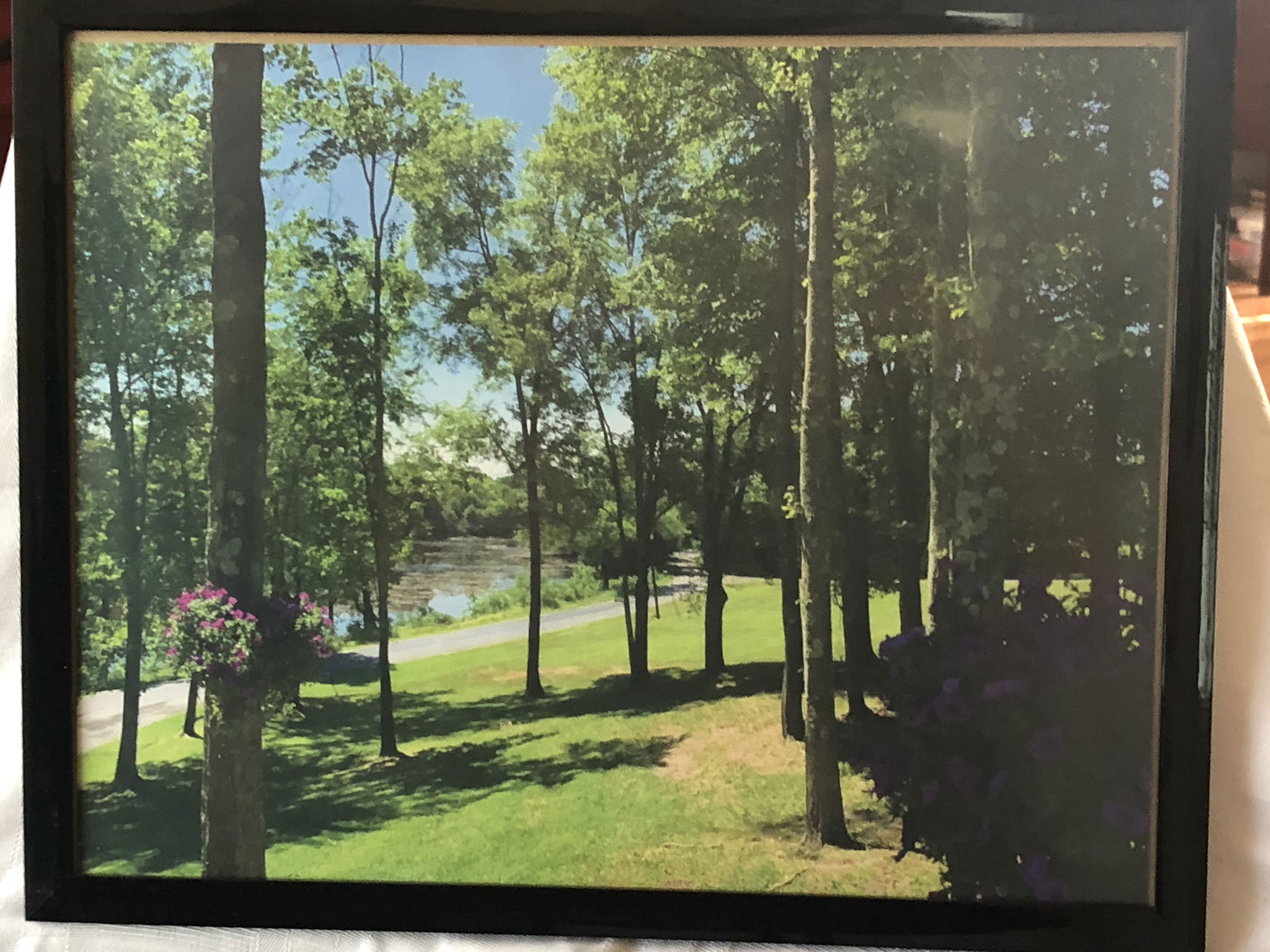 Still Life- Ye Old Pot and Kettle- Photo by Julia Craner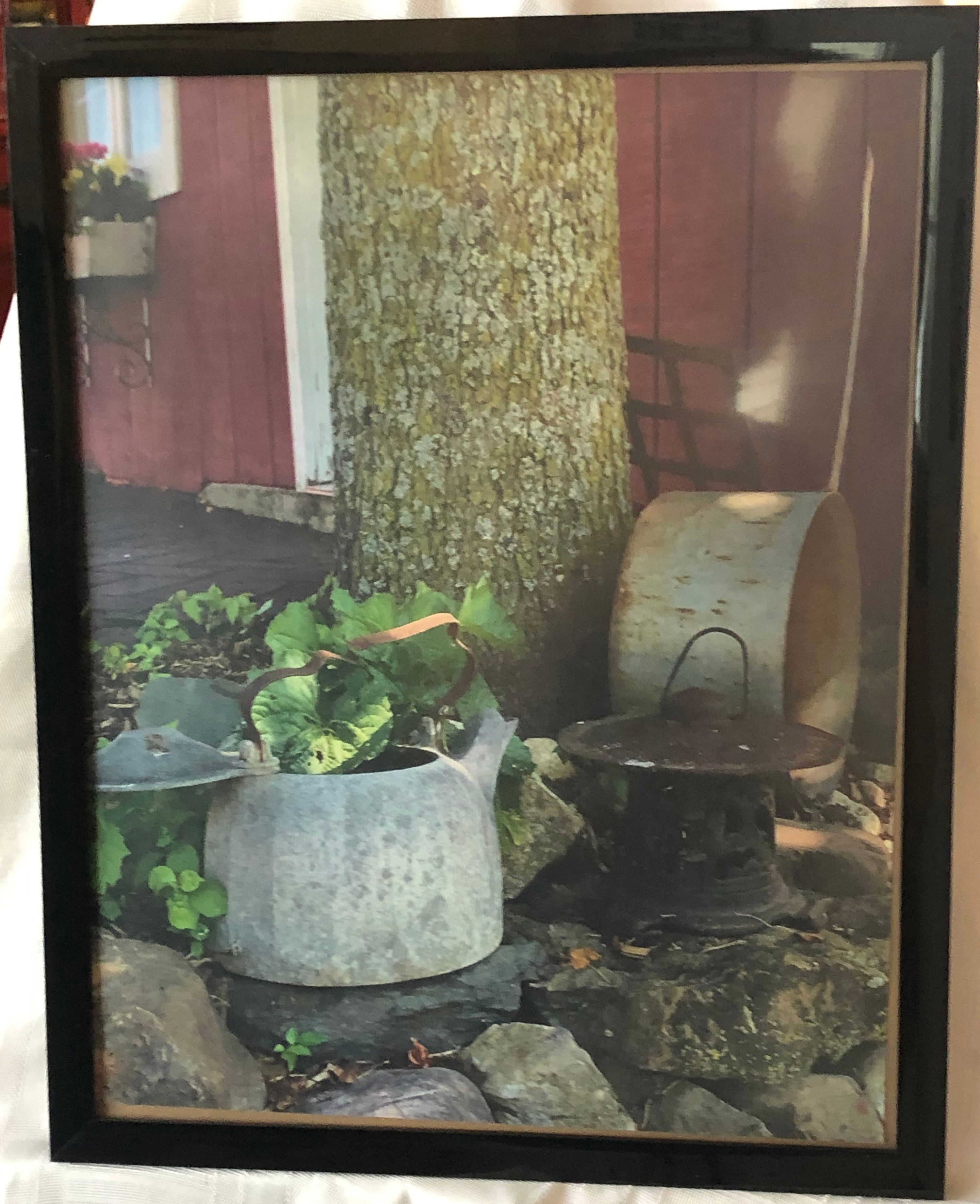 Bird House Amongst Petunias- Acrylic by Julia Craner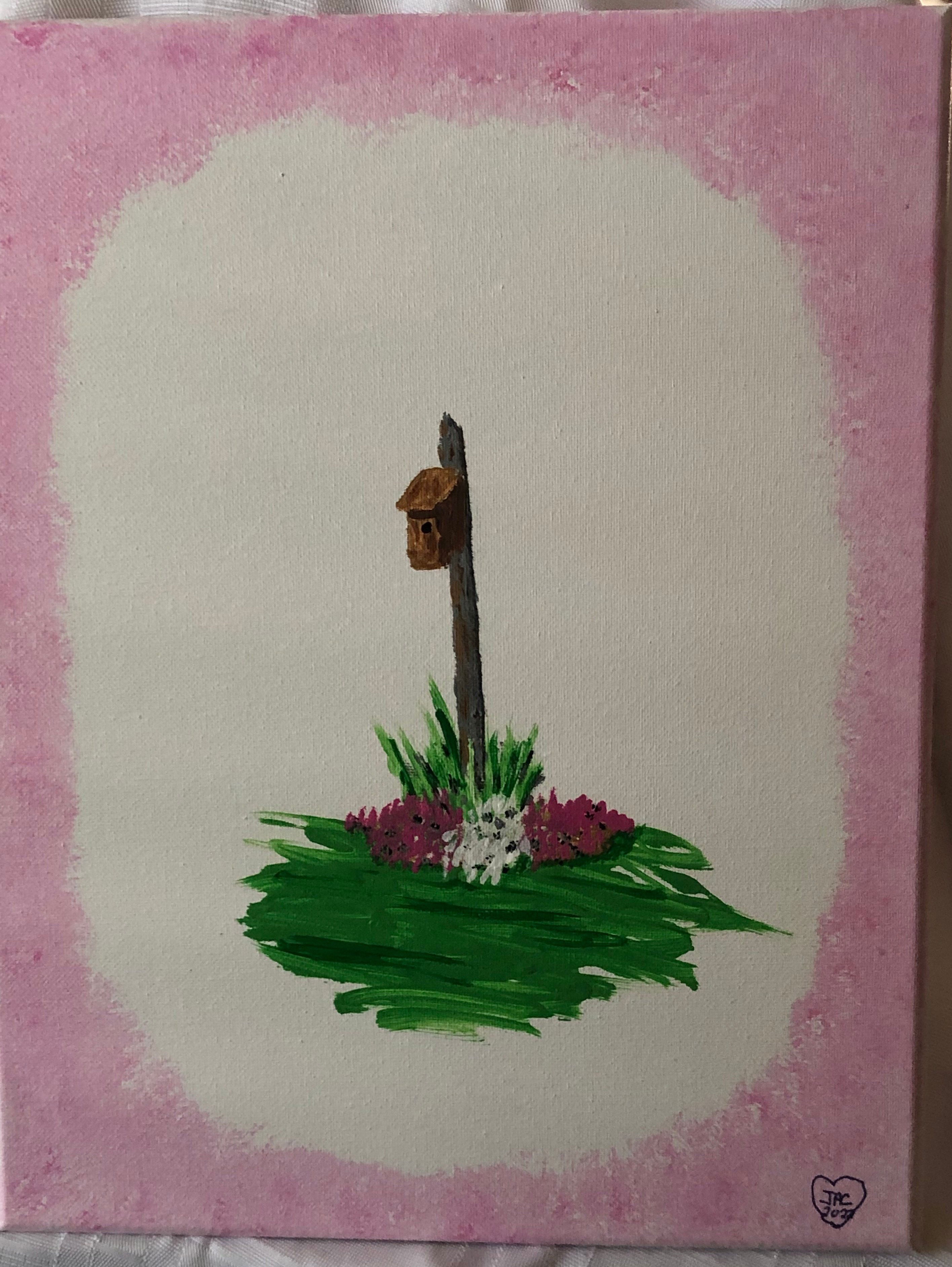 Freda Fenn- Freda Fenn and her family have been area residents for over fifty years. As Father Time made her passion for tennis more difficult, she was lucky enough to discover the world of painting. In 2006, she attended a class for seniors at the Wallkill River School of Art and has been an avid painter ever since. She describes her positive experience with the School noting that "the atmosphere and comradery there is wonderful. I have focused on watercolor and, also do pen and ink and have created greeting cards as well as prints of my work". She hopes you will enjoy her painting as much as she had in creating it.
Trees Across the Wallkill- Watercolor by Freda Fenn
Rick Parenti- Rick began drawing as a young child and attended the Maryland Institute College of Art. With his three-dimensional art background, furniture and designing interiors was a natural fit for him. His love for designing with beautiful woods grew into a successful business of 40 years, Wood Join Company. Rick collaborates with many varied artists, craftsmen, and business people in order to fulfill each client's project. He is currently working in oil paints, clay, and of course, wood. Rick is as passionate about his art as he is about his business. He says; "in art, everything is permissible as long as it's beautiful and fantastic!" You can learn more about him at www.woodjoin.com.
Gazebo at Lippincott-Oil by Rick Parenti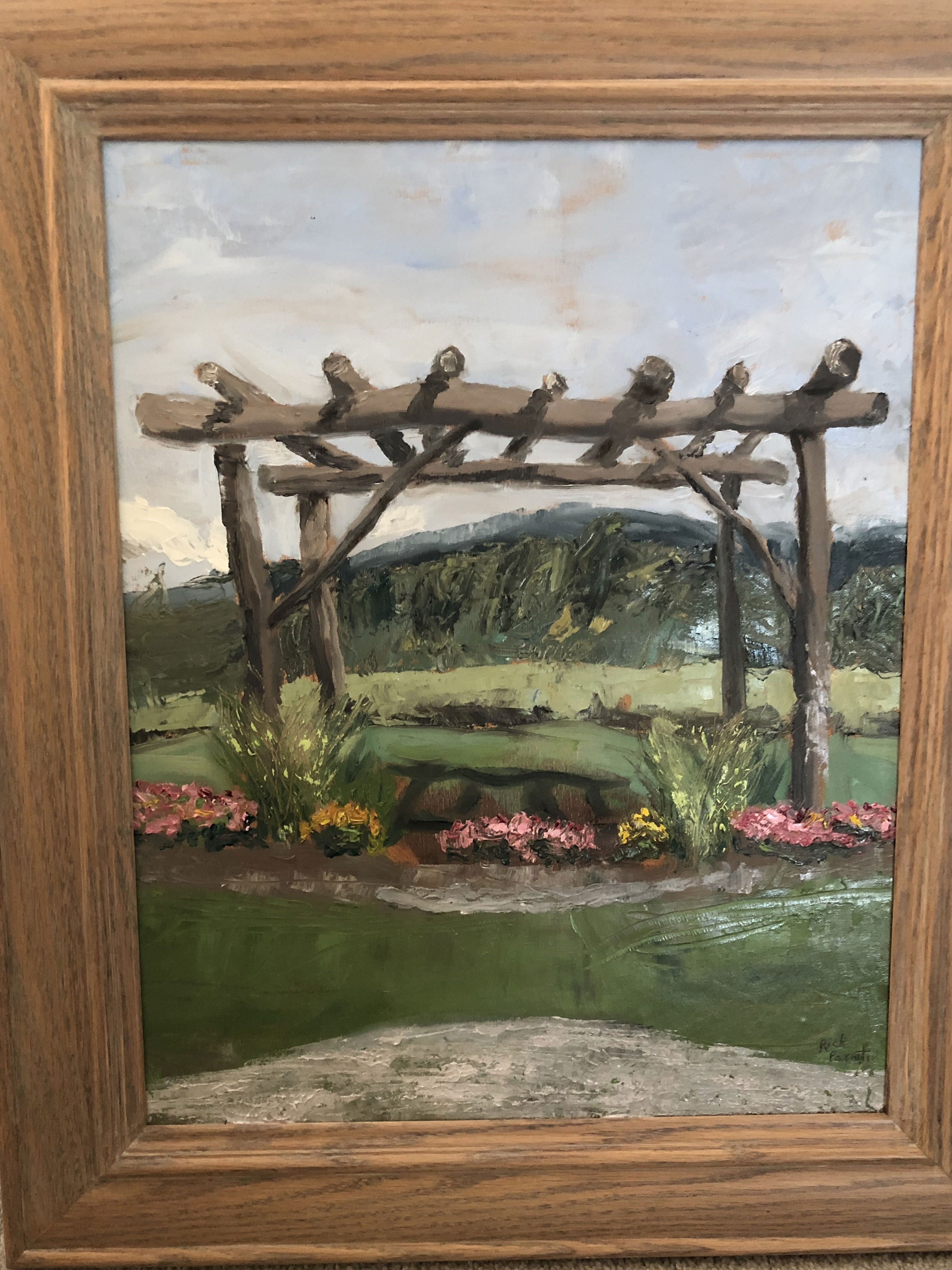 Z Moo Moo- Wooden Cow by Rick Parenti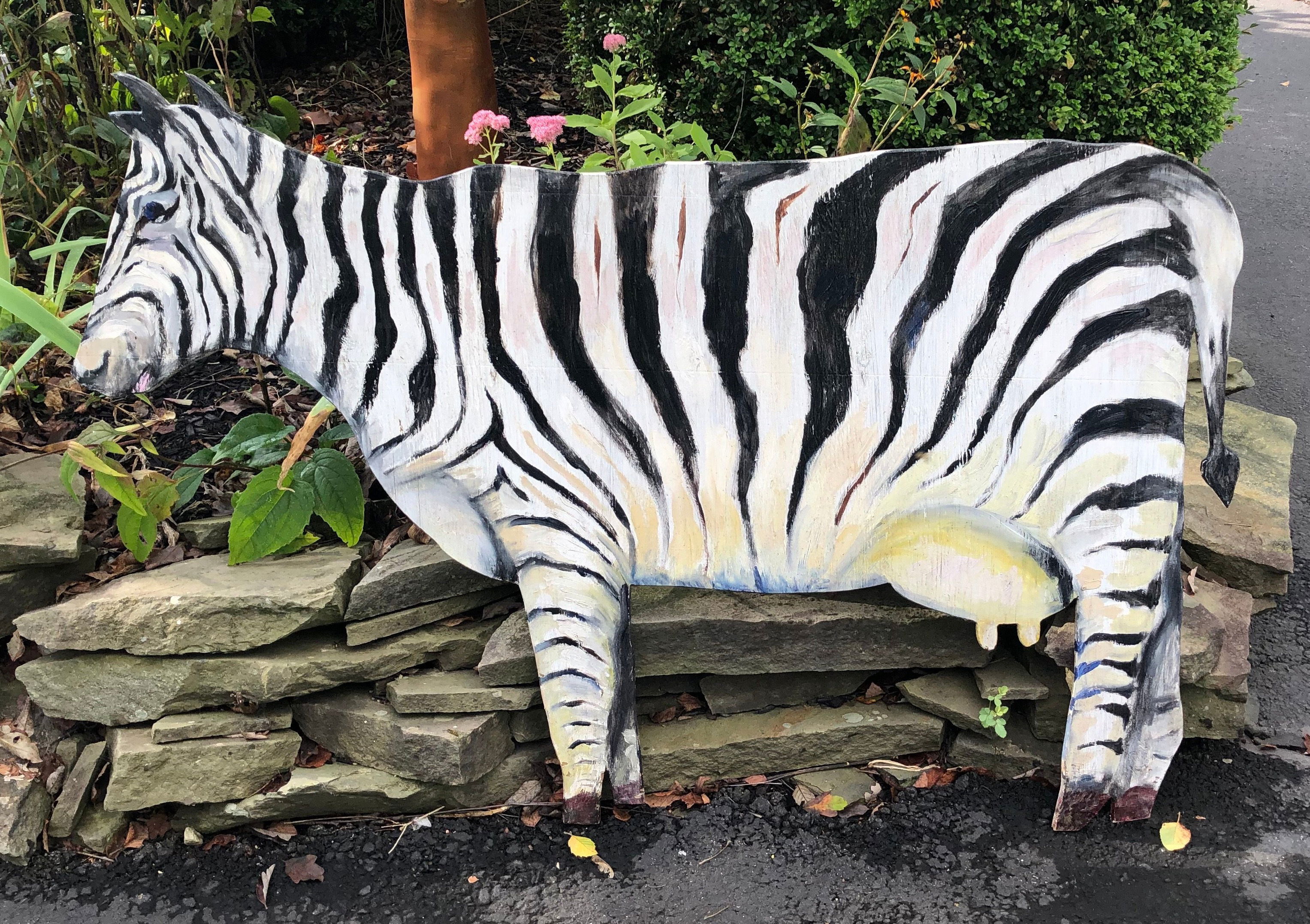 Beth Rappleyea - Beth is a homegrown artist inspired by the beauty surrounding the Wallkill Hamlet. Her creativity was nurtured at Wallkill Senior High School where she graduated in 1981. Her keen eye to tell a story was honed from three years in the Yearbook production team and serving as a Senior Editor. In 1985, she graduated from Averett College where she pursued her passions earning a B.S. in Equestrian Studies and Business Management with a Fine Arts minor.  She humbly describes herself as a "rank amateur photographer with a bit of an eye for composition", although her skills have earned a place title in the "farm" category of a "Catskill Magazine" Photo Contest (circa 2008) and two more images won the following year.
Still Life - Horseshoes on Fence - Photo by Beth Rappleyea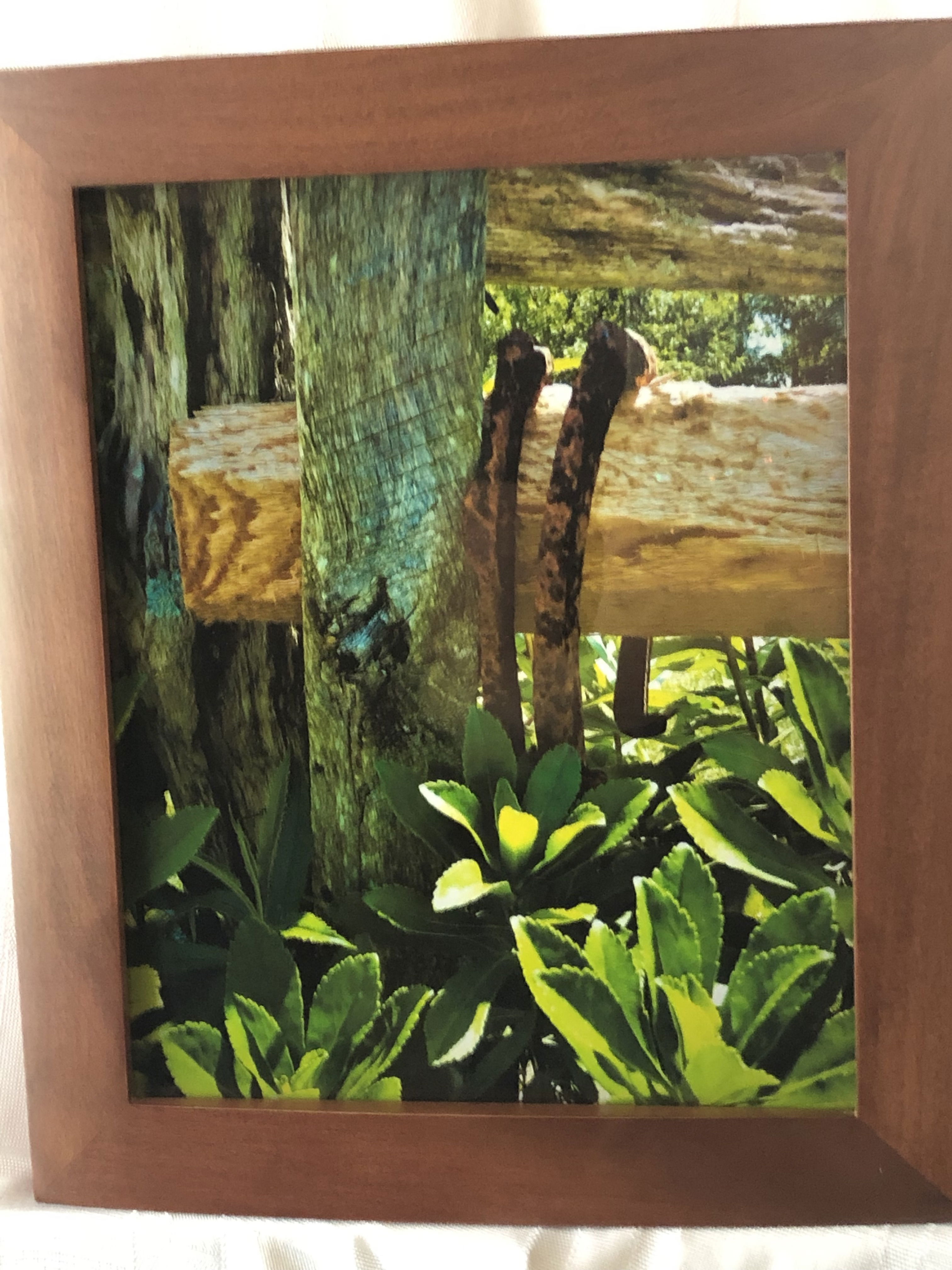 Mitchell Saler -Mitchell Saler is a fine artist who primarily paints realistic landscapes in oil, though also paints textural abstracts, animals, architecture, still lifes and more. In his works, he enjoys conveying vastness, dramatic lighting, and atmospheric effects. He exhibits his art in a number of venues and participates in plein air painting events. He has received awards in various art exhibits including from the Salmagundi Club. He lives in Middletown, NY, and has been teaching art at local venues, including the Mulberry House Senior Center and Wallkill River School, as well as private lessons. He can be found on Facebook at www.facebook.com/mitchellsalerartist and on Instagram at https://instagram.com/mitchellsaler and his works can be purchased online on this website and at pleinair.store/mitchell-saler.html
Gazebo at Lippincott Manor- Oil on Linen by Mitchell Saler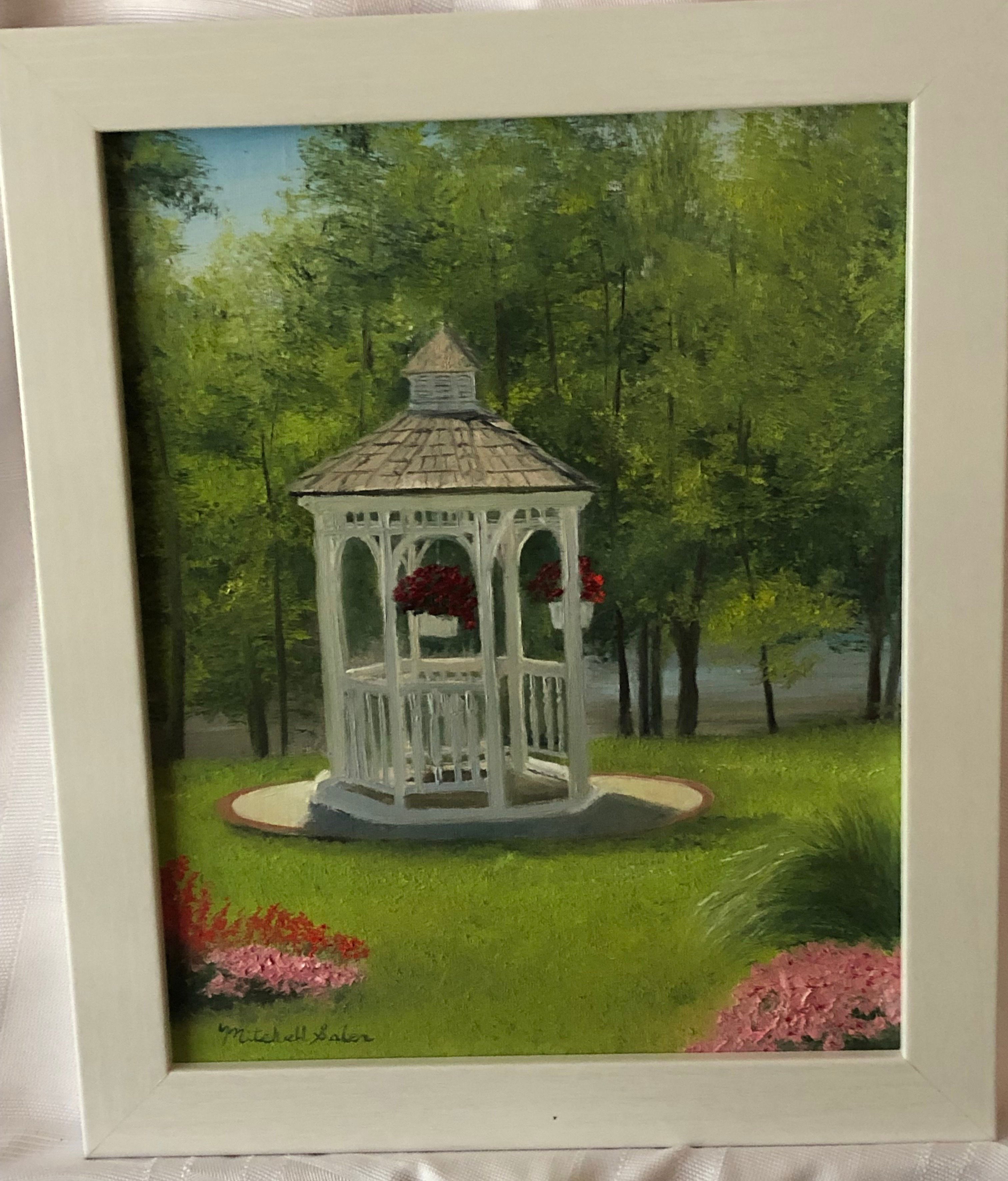 Vaune Sherin - Studied art at SUNY Orange, and received a BA in art from SUNY Binghamton with a concentration in painting. Her early work experience was in the art department of a silk screener for the garment industry. She is now a pastel painter focusing on still life and plein air landscapes. A represented artist with the Wallkill River School of Art, she also belongs to the Goshen Art League, and exhibits frequently with both groups. Her love of nature and the beauty of the Hudson Valley inspire her artwork.
View from Lippincott Manor- Pastel by Vaune Sherrin